International Programmes
Argo is a global array of 3,000 free-drifting profiling floats that measures the temperature and salinity of the upper 2000 m of the ocean. This allows, for the first time, continuous monitoring of the temperature, salinity, and velocity of the upper ocean, with all data being relayed and made publicly available within hours after collection.
Argo is a major contributor to the WCRP's Climate Variability and Predictability Experiment (CLIVAR) project and to the Global Ocean Data Assimilation Experiment (GODAE). The Argo array is part of the Global Climate Observing System (GCOS) and a pilot program of Global Ocean Observing System (GOOS).

Argo Information Center (float data base)
- Data Centers
- Monitoring (statistics on the real-time and delayed-mode Argo data flow)
- Argo links (international, national ,data centers)


Argo Global Data Assembly Centers (GDACS) in Brest, France
Observation the sea:
- Global and regional views
- The latest 30 days of data
- Observing system networks
Data Service and Products:
- Catalog
. CORIOLIS products
. Search a product in the catalog
- View and Download Products
. Data selection
. Access to Argo floats by WMO number
. View with Google Earth
. Download via FTP
. Browse Temperature & Salinity gridded maps
Surface drifters data
- Documentation
. Format documentations
. QC documentations
. Technical information of Coriolis Web Site


Argo Global Data Assembly Centers (GDACS) in Monterey, California
- Data Sets
33 datasets, search by Data Type, Parameters, Providers

- Live Access Server for USGODAE Data Sets
19 datasets, search by Latitude range and Longitude range

US National Oceanographic Data Center (NODC), final repository for Argo data

- Data access
. Archived Originators' Data
. Parameters and Data Types
. Processed Data and Project Data
. World Ocean Atlas/Database Products
. Satellite Oceanography
. National Coastal Data Development Center
. NOAA Central Library
. More links for NODC Data
CoML is a growing global network of researchers in more than 80 nations engaged in a ten-year initiative to assess and explain the diversity, distribution, and abundance of marine life in the oceans -- past, present, and future.
Scientists throughout the world are using historical and environmental archives to construct a picture of the oceans before fishing and to determine the relative impacts of human activities and environmental fluctuations since fishing became important and are compiling this information into a History of Marine Animal Populations . To quantify the diversity, distribution, and abundance of marine life, the Census divides the ocean into parts, with research structured around six realms that encompass life from the surface of the nearshore to the bottom of the deep ocean. 14Field projects are investigating these ocean realms and depositing their data into the Ocean Biogeographic Information System (OBIS), a web-based catalog of global geo-referenced information on marine species, with on-line tools for visualizing relationships among species and their environment. This massive amount of Census-generated data is being synthesized and mathematical ecosystem models developed to predict changes in Future of Marine Animal Populations caused by environmental or human influences.
CoML three components:
The History of Marine Animal Populations (HMAP)
An interdisciplinary research program using historical and environmental archives to analyze marine population data before and after human impacts on the ocean became significant.
The Ocean Bigeographic Information System (OBIS)
30 million records of 126000 species from 887 databases (till Dec. 2010).
The Ocean Biogreographic information System (OBIS) seeks to absorb, integrate, and assess isolated datasets into a larger, more comprehsensive pictures of life in our oceans. The system hopes to stimulate research about our oceans to generate new hypotheses concerning evolutionary processes, species distributions, and roles of organisms in marine systems on a global scale. The abstract maps that OBIS generates are maps that contribute to the 'big picture' of our oceans: a comprehensive, collaborative, world-wide view of our oceans.
OBIS provides a portal or gateway to many datasets containing information on where and when marine species have been recorded. The datasets are integrated so you can search them all seamlessly by species name, higher taxonomic level, geographic area, depth, and time; and then map and find environmental data related to the locations.
OBIS aims to be: authoritative, professional, and credible concise, easily read and understood, and use minimal jargon user friendly with a logical consistent design and flow regularly updated.
Search Data
- Species (search and browse species)
- Datasets (search and browse datasets)
- Region
- Date & Season
- Oceanography

Maps
- Data in OBIS: A Visual Summary
OBIS China:
- Website:http://www.iobis.org.cn/index_e.htm
- Host Organization:Institute of Oceanology, Chinese Academy of Sciences( http://www.qdio.ac.cn )
- Funding Source: Chinese Academy of Sciences Alfred P.Sloan Foundation via CoML (in application)
- Mission and Objectives: OBIS China will show marine biodiversity data from the China seas, connect Chinese marine species data with the international OBIS network, and provide data service online.
- Datasets included:
. Database of Macrobenthos from Yellow Sea and East China Sea
. Information of Animal Species and Specimens from Yellow Sea and Bohai Gulf
. Database of Fishes from Chinese Seas
. Database of Type Specimens in MBMCAS (Marine Biological Museum of Chinese Academy of Sciences)
. Database of Sea Algae in MBMCAS
. Database of invertebrates and other specimens in MBMCAS (in development)
- Spatial Coverage: Chinese waters of western Pacific Ocean, Arctic Ocean, Southern Ocean
- Temporal Coverage: from 19th century to the present
- Taxonomic coverage: Mainly fishes, invertebrates, algae
- Services offered: OBIS China will provide information concerning marine biodiversity relevant to regions of concern, and provide a local portal for submission and services of data request.
OBIS Korea:
- Website:http://kobis-en.kordi.re.kr/
- Host Organization: Korea Ocean Research & Development Institute (www.kordi.re.kr )
- Funding Source: Ministry of Science and Technology, Korea
- Mission and Objectives: Establishment of the Korea marine biodiversity data management system
- Development of a database system and an internet data providing system
-Participation in the international OBIS network

Data included:
- Rescured data from the previous papers, research reports and books.
- Datasets collected by the research projects of - KORDI
Spatial Coverage:
- Yellow Sea
- South Sea
- East China Sea
- East/Japan Sea
Temporal Coverage:
- From 1960s to present
Taxonomic coverage:
- All marine life from Korean waters
The Future of Marine Animal Populations (FMAP)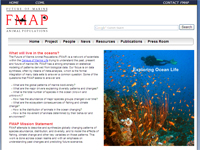 The Future of Marine Animal Populations (FMAP) is a network of scientists within the Census of Marine Life trying to understand the past, present and future of marine life. FMAP has a strong emphasis on statistical modeling of patterns derived from biological data. Our focus is on data synthesis, often by means of meta-analysis, which is the formal integration of many data sets to answer a common question.
FMAP attempts to describe and synthesize globally changing patterns of species abundance, distribution, and diversity, and to model the effects of fishing, climate change and other key variables on those patterns. This work is done across ocean realms and with an emphasis on understanding past changes and predicting future scenarios.
FMAP projects:
Project Overview
Spatial distribution and movements of tagged animals
Global patterns of marine biodiversity
Long-term changes in ocean ecosystems
FMAP Resources:
- Computer Scripts
IOC/WESTPAC is a regional subsidiary body of IOC and therefore performs its functions within the general mandate, statutes and policy of the Commission as well as within the budgetary guidelines established by the Assembly.

IOC/WESTPAC's main task was to develop, co-ordinate and implement regional marine scientific research programmes, ocean observations and services, data and information management and capacity building, all these in the context of priority interests of the Member States in the region.
IOC/WESTPAC Programme and Projects:

Ocean Observations and Services:
ODINWESTPAC - Ocean Data and Information Network for the Western Pacific Region
ODINWESTPAC, Hosted by NMDIS National Marine Data and Information Service, Tianjin, China, was set up primarily to provide effective capacity building framework, to promote regional collaboration in marine data and information and products sharing, to develop cooperation with other ODINs and international and regional projects/programs, and to provide data and information services mainly for the WESTPAC member states and other users.
- Finding Data
- Finding Information
- Finding People
Marine Science & Applications
Capacity Development & Research Center
- Training & Research Center
- WESTPAC E-Bulletin
Working Groups
- ADOES
- GRAME
The IOC's IODE was established in 1961 to enhance marine research, exploitation and development by facilitating the exchange of oceanographic data and information between participating Member States and by meeting the needs of users for data and information products. The IODE system forms a worldwide service oriented network consisting of DNAs (Designated National Agencies), NODCs (National Oceanographic Data Centres), RNODCs (Responsible National Oceanographic Data Centres) and WDCs (World Data Centres - Oceanography). During the past 40 years, IOC Member States have established over 60 oceanographic data centres in as many countries.
IODE Data Centers:

During the past 40 years, the IODE system has developed into a global network of over 80 data centres in as many countries. Each IOC Member States that has established an NODC or DNA has also nominated an IODE National Coordinator for datamanagement.
There are currently 4 World Data Centres (Oceanography):
- WDC for Oceanography, Silver Spring, USA
- WDC for Oceanography, Obninsk, Russia
-- Hydrometeorological data: Air temperature and precipitation daily data from the former USSR 223 stations. Ship meteorological data for the World Ocean.
-- Russian State fund databases:Hydrometeorological data on magnetic tapes of Russian State fund of data on conditions of environment.
- WDC for Oceanography, Tianjin
- WDC Marine Environmental Sciences, Bremen, Germany
World Ocean Database (global)
World Ocean Database (WOD) contains the World Ocean Database 2009 (WOD09) with the full set of quality control used to create World Ocean Atlas 2009 (WOA09) and all updates to the database.
Data Access:

IODE Ocean Data Portal (global)
The Ocean Data Portal (further, ODP) aims at providing seamless access to collections and inventories of marine data from the NODCs (National Oceanographic Data Centres) of the IODE network and allows for the discovery, evaluation (through visualization and metadata review) and access to data via web services. The system architecture use Web-oriented information technologies to access non-homogeneous and geographically distributed marine data and information.
Finding Data:
METADATA & DATA - 37 resources (Jan. 2011)
MAPs - Analysis service has been developed to provide nearly real-time GIS-layer generation from distributed data sets both with interactive and fast presentation of multidisciplinary data and products on a map. The mapping service enables a joint analysis of data to provide a view of the spatial variability of marine processes. Portal renders maps generated by analysis service using OpenLayers and MapServer.
SeaDataNet data access(regional)
The SeaDataNet infrastructure links 40 national oceanographic data centres and marine data centres from 35 countries riparian to all European seas. The data centres manage large sets of marine and ocean data, originating from their own institutes and from other parties in their country, in a variety of data management systems and configurations. A major objective and challenge in SeaDataNet is to provide an integrated and harmonised overview and access to these data resources, using a distributed network approach.
Documents and Publications:
- DATA PRODUCTS: Climatic Atlas of the Arctic Seas, 2004: Part I. Database of the Barents, Kara, Laptev, and White Seas – Oceanography and Marine Biology
- Data available from IODE NODCs with special attention to marine pollution data (a table shows the data types managed by IODE NODCs.)
- Finding data or information in the NODC web sites, search all NODC web sites simultaneously through the Ocean Portal search engine
- Finding oceanographic data on the web
- IODE Session Reports
- List of IODE National Coordinators for Data Management
- IODE Books and Information Documents
- IODE Workshop Reports
- IOC/IODE Projects link

IODE Global Activities:
Aquatic Sciences and Fisheries Abstracts (ASFA)
The Aquatic Sciences and Fisheries Abstracts (ASFA) Bibliographic Database is the principal information product of the ASFIS system. It contains approximately 1 million bibliographic references (or records) to the world's aquatic science literature accessioned since 1971 (for some journals and/or subject areas the coverage precedes 1971).

End-to-End Data Management Prototype (E2EDM Prototype)
E2EDM is JCOMM/IODE Expert Team on Data Management Practices (ETDMP) Pilot Project 3. E2EDM system is considered as the coordinated and inter-connected combination of the following components: 1.Marine and ocean meteorological data management systems (local DM systems) which are available and being developed under various ocean study programs and services. 2.Integration technology as an "umbrella" that comprises local DM systems and provides communication and "transparent" interaction between metadata, data and products resulted from these DM systems and also an end-user access to any data and information generated by DM systems.
The goal of this ETDMP Pilot Project is to develop a prototype of the Web-oriented technology that can undertake real-time data fusion from distributed oceanographic and marine meteorological data sources into sample products of interest to JCOMM users and can demonstrate "end to end" data management opportunities (further, E2EDM technology).
- E2E OceanDataPortal
The Global Temperature and Salinity Profile Program (GTSPP)
GTSPP is a cooperative international program to develop and maintain a global ocean Temperature-Salinity resource with data that are both up-to-date and of the highest quality. It is a joint World Meteorological Organization (WMO) and Intergovernmental Oceanographic Commission (IOC) program.
Access GTSPP Data:
- User-Defined Data Sets
- Real-Time Data Sets
- Best Copy Data Sets
Global Ocean Surface Underway Data Pilot Project (GOSUD)
The main objective of GOSUD is to collect, process, archive and disseminate in real time and delayed mode, sea surface salinity and other variables collected underway, by research and opportunity ships.

The IOC/IODE XVI Conference recommended ( IODE-XVI-10) an Underway Sea Surface Salinity Data Archiving Project . The JCOMM-1 meeting supported such a project urging that integration with other data collected at the same time be properly considered.
GDAC: Global Data Assembly Centers :
FTP data access:
- ftp://ftp.nodc.noaa.gov/pub/data.nodc/iode/gosud
- ftp://ftp.ifremer.fr/ifremer/gosud
OpenDAP data access:
- http://data.nodc.noaa.gov/cgi-bin/nph-dods/iode/gosud
- http://www.ifremer.fr/cgi-bin/nph-dods/data/in-situ/gosud
Web data access:
- Through IFREMER Global Data Center
- Through US-NODC Archiving Data Center
Reference documents :
- Gosud user's manua l: the user's manual describes Gosud data formats. The Argo trajectory format is adopted as Gosud data format.
- Gosud real-time QC manual : a list of 11 automated quality control tests is applied to Gosud data
GOSUD Products:
- Documentation
- Data products
- Scientific Products
- Network related products
The Joint WMO/IOC Technical Commission for Oceanography and Marine Meteorology (JCOMM) (See below JCOMM introduction)
OceanDocs -E-Repostory of Ocean Publications
Research & Publications in Marine Science in digital form, including preprints, published articles, technical reports, working papers and more.
OceanDocs is supported by the Intergovernmental Oceanographic Commission (IOC) specifically to collect, preserve and facilitate access to all research output from members of their Ocean Data and Information Networks (ODINS). It is one of a number of complementary thematic digital marine and aquatic repositories including the Aquatic Commons, which is supported by the International Association of Aquatic and Marine Science Libraries and Information Centers (IAMSLIC). The records of both repositories are harvested by Avano which aggregates records from marine and aquatic repositories around the World.
Browse DSace:
- Communities & Collections (Africa, GEOHAB, IODE, Latin America)
- Titles
- Authors
- Date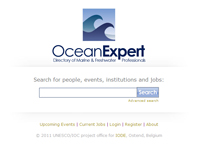 OceanExpert (or the Global Directory of Marine (and Freshwater) Professionals) (GLODIR) is a database, developed and maintained by the IOC, containing information on individuals and institutions involved in all aspects of Marine or Freshwater Research and Management. OceanExpert is a product developed in 1997 under the auspices of the IODE Group of Experts on Marine Information Management (GE-MIM). OceanExpert is a free product, and is intended to be a tool for scientists, policy makers and anyone who needs to contact a marine or freshwater professional.
By Jan. 2011, OceanExpert contains 13116 experts, 4489 institutions, 685 events, 125 jobs.
OceanPortal was closed in June 2009. This was decided because there are now sufficient other web-based serach tools to seek ocean related web site.
The OceanPortal Project offered a variety of users interested in Ocean Science and Services a range of specific and new technology based services includes. They were intended to assist users in locating web based data and information sources as well as to promote exchange of information and experience between users.
The Links Directory: (Novermber,2010)
- News
- Finding data
- Visit the Portal
- Manuals/Documentation
- Data Dictionaries
The objective of Ocean Teacher is to provide training tools for Oceanographic Data and Information Exchange. These tools are used during IODE Training Courses but can also be used for self training and continuous professional development.
OceanTeacher Digital Library:
- General
- Marine Data Management
- Marine Information Management
IODE Academy:
Ocean Science
The objective of IOC ocean science is to play a lead role in creating the conditions for good science and building a network of scientific logistic facilities at global and regional scale. Activities are clustered around the IOC high level objectives for 2008-2013 and the priority areas of research determined by the ad hoc Advisory Group for the IOC Ocean Sciences Section: climate change, ocean health and coastal research. IOC Ocean science activities also contribute to enhance scientific capabilities in developing nations, especially in Africa, in line with IOC-UNESCO priorities.
1. World Climate System (WCRP)
World Climate Research Programme, sponsored by the ICSU, WMO and the IOC, integrates new observations, research facilities and scientific breakthroughs to progress the understanding of the processes that determine our climate.
. World Data System

2. Harmful Algae Events
The IOC HAB Programme fosters the effective management of, and scientific research on, harmful algal blooms in order to understand their causes, predict their occurrences, and mitigate their effects
3. IOC web site on Integrated Coastal Research
The ultimate goal is to develop novel datasets and innovative, predictive models, which will be shared with scientists, managers, and policy-makers from regions experiencing (or likely to experience) negative impacts due to changes in coastal nutrient loading.
Search (Webpages, peoples,events, documents, institutions)
4. Globel Ocean Ecosystem Dynamics (GLOBEC)
GLOBEC was initiated by SCOR and the IOC of UNESCO in 1991, to understand how global change will affect the abundance, diversity and productivity of marine populations comprising a major component of oceanic ecosystems.
- Data (Data policy , Metadata inventory , Plankton database , Typology )
SeaDataNet - Pan-European Infransture for Ocean & Marine Data Management
SeaDataNet has federated open digital repositories to manage, access and share data, information, products and knowledge originating from oceanographic fleets, new automatic observation systems and space sensors.
By use of standards for communication and new developments in information technology, in-situ and satellite marine data platforms are providing metadata, data and products as a unique virtual data centre.
Meta-data Services:
Common Data Index (CDI) Service:
Data products services:
( SeaDataNet User Register is required for submitting data requests and downloading! )

WIGOS - WMO Integrated Global Observing System
The WMO Integrated Global Observing System (WIGOS) is a concept for a comprehensive, coordinated and sustainable system of observing systems. WIGOS is based on all WMO Programmes' observational requirements. It will provide a single focus for the operational and management functions of all WMO observing systems as well as a framework and mechanism for interactions with WMO co-sponsored observing systems enabling integration, cooperation and coordination taking into account the multiplicity of perspectives and observing domains covered by WIGOS. Through the WMO Information System (WIS), it will ensure availability of required data, metadata and products according to identified requirements.
- Open-source Project for a Network Data Access Protocol ( OPeNDAP)

OPeNDAP: Open-source Project for a Network Data Access Protocol
OPeNDAP is a framework that simplifies all aspects of scientific data networking.
OPeNDAP provides software which makes local data accessible to remote locations regardless of local storage format. OPeNDAP also provides tools for transforming existing applications into OPeNDAP clients (i.e., enabling them to remotely access OPeNDAP served data).
Data accessible using DAP:
Worldwide marine meteorological and oceanographic communities are working in partnership under the umbrella of the WMO-IOC Joint Technical Commission for Oceanography and Marine Meteorology, in order to respond to interdisciplinary requirements for met/ocean observations, data management and service products.
JCOMM coordinates, regulates and manages a fully integrated marine observing, data management and services system that uses state-of-the-art technologies and capabilities, is responsive to the evolving needs of all users of marine data and products, and includes an outreach programme to enhance the national capacity of all maritime countries. It works closely with partners including: the International Oceanographic Data and Information Exchange (IODE), the Global Ocean Observing System (GOOS), and the Global Climate Observing System (GCOS).
Data Buoy Cooperation Panel (DBCP) The DBCP is an international program coordinating the use of autonomous data buoys to observe atmospheric and oceanographic conditions, over ocean areas where few other measurements are taken.
Access Buoy Data:
- Real time: Surface Marine Data and QC plots
- Near-real time and Archived data
International ARGO Project Homepage- Argo.net
- Argo Project Office
- Argo Information Center

Ocean SITES
OceanSITES is a worldwide system of long-term, deepwater reference stations measuring dozens of variables and monitoring the full depth of the ocean from air-sea interactions down to 5,000 meters.
- OceanSITES Data Links
. Global Data Assembly Centers: - IFREMER Coriolis (FTP),- US NDBC (FTP)
The work of the SOT consists of several very successful and enduring data collection programmes (over 100 years), involving voluntary observing ships and ships of opportunity operated through the VOS and SOOPIP.
- JCOMM Voluntary Observing Ship Scheme
- Ship Of Opportunity Programme (SOOP)
The Global Sea Level Observing System (GLOSS)
GLOSS is an international programme conducted under the auspices of JCOMM of the World Meteorological Organisation (WMO) and the Intergovernmental Oceanographic Commission (IOC) (see www.jcommweb.ne t). GLOSS aims at the establishment of high quality global and regional sea level networks for application to climate, oceanographic and coastal sea level research. The main component of GLOSS is the 'Global Core Network' (GCN) of 290 sea level stations around the world for long term climate change and oceanographic sea level monitoring.
GLOSS Sea Level Data:
- Mean Sea Level (MSL) data from the PSMSL
- High frequency delayed-mode data from the GLOSS Station Handbook
- High frequency fast-mode data from UHSLC (or via DODS server)
FAST sea level data , see the contents of the GLOSS Fast Data Center at the University of Hawai`i Sea Level Center .
- High frequency real time/near real time data from the sea level station monitoring facility
For real time/near real time sea level data from GLOSS sites (data available within minutes, to several hours), see the sea level station monitoring facility .
- Africa and Western Indian Ocean sea level data ( high frequency delayed-mode data from ODINAFRICA and Western Indian Ocean tide gauges.)
JCOMM in situ Observing Platform Support Centre (JCOMMOPS)
JCOMMOPS provides coordination at the international level for oceanographic and marine observations from drifting buoys, moored buoys in the high seas, ships of opportunity and sub-surface profiling floats. JCOMMOPS operates under the auspices of the Joint WMO-IOC Technical Commission for Oceanography and Marine Meteorology (JCOMM).
- Monitoring : JCOMM , Platforms , GTS , Reports , Quality , Direct URLs
- MAP Room : Interactive Maps , Platforms , Variables , Query Static Maps , links
- Instrumentation: Manufacturers , Metadata , est standards and practices , Evaluation
- Data: Buoys , Ships , Floats , Tide Gauges , GTS , Data centres
Observing System Monitoring Center
OSMC is being funded by the National Oceanic and Atmospheric Administration's(NOAA) Office of Climate Observation (OCO), is to provide a tool that will assist managers and scientists with monitoring the performance of the global in-situ ocean observing system, identifying problems in real-time, and evaluating the adequacy of the observations in support of ocean/climate state estimation, forecasting and research.
OSMC is primarily built of two components -- a data base of metadata and tools to assist with the interpretation of that metadata.

- OSMC In-situ Monitoring Metadata Platform
- OSMC Climate Services
- State of the Ocean Climate
- Google Earth Viewer
. Last three days of observations
. Last week of IOOS observations
. Last week of drifter observations
. Last two weeks of Argo observations
- Observational Density


The International Ocean Carbon Coordination Project (IOCCP)
IOCCP is a communication and coordination service for the ocean carbon community.
IOCCP Activities:


(1) GO-SHIP : Building on the GO-SHIP strategy and revised hydrographic program manual, the committee is drafting a 5 year development plan to identify the critical steps that need to be taken to coordination individual national efforts into a global network.
- Cruise Plans
- Data Directory
- Hydro Manual
- Documents

(2) SOCAT : To establish a standard global surface carbon dioxide dataset that brings together all publicly available data in a common format.
- SOCAT Live Access Server
- SOCAT Input database
- Download
(3) Changing Times: Develop a multi-platform inventory of ocean biogeochemistry time series programs, see the Changing Times workshop report.
(4) Ocean Carbon Sensors: Developing the inventory of most often used ocean carbon sensors on the IOCCP site. See OCCP Sensor Directory.

Data and Products:

HYDROGRAPHY- CDIAC Ocean CO2 Center - CLIVAR Hydrographic Data Office - US Repeat Hydrography Data Centers - CDIAC / CLIVAR Data Management Plan - CLIVAR Data Policy UNDERWAY CO2- CDIAC Ocean CO2 Center - The Takahashi Climatology v2008 - CarboOcean / CARINA database - Surface Alkalinity Climatology at CDIAC - NOAA's Carbon Tracker System - UK CARBON-OPS operational air-sea flux observation capability - IOCCP recommended data / metadata formats TIME SERIES STATIONS- CDIAC Ocean CO2 Center - OceanSITES Network OCEAN COLOUR- International Ocean-Colour Coordinating Group (IOCCG) - European Space Agency GlobColour Project DATA SETS- GEOSECS (Geochemical Ocean Sections Study 1972 - 1978) - JGOFS / WOCE on-line atlases - Takahashi Global CO2 Flux Climatology - Global Ocean Data Analysis Project (GLODAP) at CDIAC - Carbon in the North Atlantic (CARINA) data at CDIAC - Global Surface Ocean Alkalinity Climatology at CDIAC - Origin and fate of biogenic particle fluxes in the ocean (ORFOIS) - US Ocean Carbon and Biogeochemistry Data Management Office data from the programs CARIACO, EDDIES, MedFlux, SOFeX, and VERTIGO.
3. Services and Forecast Systems Program Area (SFSPA): JCOMM promotes a state-of-the-art globally distributed and inter-connected system based on present and next-generation technologies and capabilities.

- Marine Safety Services : Glbal Maritime Distress and Safety System (GMDSS) - an integrated communications system using satellite and terrestrial radio communications to ensure that no matter where a ship is in distress, aid can be dispatched.
- Sea Ice : IPY ICE Logistics Portal
- Ocean Forecasting
Global Digital Sea Ice Data Bank (GDSIDB)
In line with its status as a technical commission of WMO, JCOMM is an intergovernmental body of technical experts in the field of oceanography and marine meteorology, with a mandate to prepare both regulatory and guidance material re lating to marine observing systems, data management and services.
Data holdings :
- AARI (Arctic and Antarctic Research Institute)
- NSIDC (National Snow and Ice Data Center)
4. JCOMM Data Management Programme Area (DMPA) :
- Data and Information Access
GODAE is creating the conditions for an efficient global ocean measurement network, provided through a variety of direct and remote methods, and sustained long-term on the basis of demonstrated practical utility. The raw and processed information (measured data and analyses) are distributed globally via a system of communications and data serving facilities that satisfy the demand for immediacy and timeliness of information.
The final goal is to sustain a reliable, global operational system that provides regular, timely and accurate forecasts and analyses for many different scientific, industrial and governmental applications.
The outputs of GODAE come from all GODAE partners. These data and products are distinctive and unique contributions to research and operational communities.
GOOS is a permanent global system for observations, modelling and analysis of marine and ocean variables to support operational ocean services worldwide. GOOS is working with national agencies and regional networks to provide accurate descriptions of the present state of the oceans, including living resources, continuous forecasts of the future conditions of the sea for as far ahead as possible, and the basis for forecasts of climate change. (Lead: UNESCO / IOC). GOOS is a global system for sustained observations of the ocean comprising the oceanographic component of the Global Earth Observing System of Systems (GEOSS). GOOS is sponsored by: IOC , UNEP , WMO and ICSU .
1. Operational Sea Surface Temperature and Sea Ice Analysis (OSTIA)
- Latest SST Analysis (full resolution png version)
- Real Time SST monitoring
- Data Visualisation
- Data Access ( by Emailing)
2. Global Observing Systems Information Center (GOSIC)


The Global Observing Systems Information Center (GOSIC) is hosted at the National Oceanic and Atmospheric Administration's (NOAA) National Climatic Data Center (NCDC ), located in Asheville, NC, and provides an information center that facilitates the search of and access to data, data products, metadata and information for the Global Climate Observing System (GCOS ), Global Ocean Observing System (GOOS ) and the Global Terrestrial Observing System (GTOS ) and their partner programs such as the Global Atmosphere Watch (GAW ) and the regional observing systems such as the GOOS Regional Alliances (GRA ).
List of GOSIC programs:
- The Global Climate Observing System (GCOS)
- The Global Atmosphere Watch (GAW)
- The Global Ocean Observing System (GOOS)
- The Global Terrestrial Observing System (GTOS)
- The GOOS Regional Alliances (GRA)
Global Observing Systems Data Search Tools:
- GOSIC Data Registry
- Matrix search
- Metadata search
- Text search
Global Observing Systems Publications: Search Publications by Observing System, Year, and/or Title; the list of publications.
GOOS Documents:
- Recent Publications
- GOOS reports
- Recent GOOS presentations
- GOOS official agreements and communications
- Document Lists Available

The Portal Toolkit, serves as the user interface to the LME Data and Information Portal.
Features of the Toolkit Include:

Publications
- Books
- Reports
- Technical Memoranda
- Consultative Committee
- Select Citati ons

Education/Outreach
- Brochures

Maps and DataDigital
- Maps
- GIS Data

NEAR-GOOS is a regional pilot project of GOOS in the North-East Asian Region, implemented by China, Japan, the Republic of Korea and the Russian Federation as a WESTPAC Activity. Oceanographic data and relevant products within the NEAR-GOOS system are open to all users free of cost.
Oceanographic data within the NEAR-GOOS system are An Operational Manual for the NEAR-GOOS Data Base defines, in detail, operation of the NEAR-GOOS data exchange system and user registration. Each country establishes a National Real Time Data Base (RTDB) and a National Delayed Mode Data Base (DMDB).
Real Time Data Base (RTDB) in Korea (KORDI)
The NEAR-GOOS Regional Real Time Database is operated by the Korea Ocean Research and Development Institute (KORDI).
- Real Time Data
- 72 Hours Data
- Achieved Data
- Stations


Real Time Data Base (RTDB) in Japan (JMA)

The database contains the data collected at JMA through Global Telecommunication System (GTS) of the World Meteorological Organization, the data that the participating institutes have contributed and some products by JMA.
- RDMDB Data Retrieval System

Delayed Mode Data Base (DMDB) in Japan (JODC)

The Regional Delayed Mode Data Base (RDMDB) operated by the Japan Oceanographic Data Center (JODC), which is responsible for the Regional Data Center for WESTPAC. The Regional Delayed Mode Data Base also collects the data/products from the National Delayed Mode Data Bases (NDMDB) except those collected through Regional Real Time Data Base.
- Access RDMDB data
- List of Retrievable RDMDB Data

Real Time Data Base (RTDB) in China (NMEFC)

Delayed Mode Data Base (DMDB) in China (NMDIS)

Real Time Data Base (RTDB) in Russia (FERHRI)

Delayed Mode Data Base (DMDB) in Russia (POI)

The North Pacific Marine Science Organization (PICES), an intergovernmental scientific organization, was established in 1992 to promote and coordinate marine research in the northern North Pacific and adjacent seas. Its present members are Canada, Japan, People's Republic of China, Republic of Korea, the Russian Federation, and the United States of America.
North Pacific Ecosystem Metadatabase
An Internet utility for "one-stop" publishing, search and access of international data and information on marine ecosystems of the North Pacific, achieved though federating national, governmental, academic and private metadata that contain not only descriptions of resources but also working links to datasets, publications, on-line services, maps, etc.

PICNIC Data Inventory - PICES CO2 related data integration to North Pacific
PICES Carbon Dioxide Data in North Pacific (PICNIC) was planned to integrate the CO2 data which is held by PICES 6 countries: Canada, China, Japan, Republic of Korea, Russia, and US.
Among plenty of oceanographic data, PICNIC collects the cruises which includes at least one CO2 variables; dissolved inorganic carbon (DIC), CO2 fugacity (CO2), pH, and total alkalinity (TAlk). Furthermore, these cruise data also contain other CO2 related parameters: dissolved oxygen, nutrients, C-13, C-14, CFCs, SF6 and so far. These data would be available to understand the behavior of oceanic carbon cycle in the North Pacific.
Most of data which are listed in PICNIC inventory have been observed in North Pacific, but some cruises extend to South Pacific and Southern Ocean.
PICES MOST - Model Shooping Tool
The Model Shopping Tool (MoST) is an online catalog of pelagic ecosystem models-in-use including detailed descriptions on approach and model phylosophy, a searchabel databank of the model equations per biogeochemical or food web process, and where possible parameter values and sources. The tool is developed within EUROCEANS' WorkPackage 3.1 Model Interfacing.
Using the filters, MoST allows you to:
- get factsheets on developed models
- list different models with the same module
- search for equations per biogeochemical/biological process
- compare equations across models
- search for vital rates

CPR Data
CTD Data A variety of instruments have been attached to the CPR to record physical variables. Simple temperature loggers have been most commonly used and 3 CTDs have been trialled. The most recent, the Brancker XR620, has proven to be the most reliable, returning 100% of the data in 2 full deployments along the east-west transect (previous Chelsea Instrument's CTDs suffered from vibrations occurring during the tow and often stopped recording).
In all cases position of each data record is calculated from the ship's log and the internal clock of the instrument. Such instruments can be fitted to each CPR, it is only financial constraints that limit their deployment. The Brancker will remain on the east-west CPR during its 2008 deployments.

North Pacific Ecosystem Status Report
PICES Report on Marine Ecosystems of the North Pacific pdf format

In 2003, the United Nations System Chief Executives Board (CEB/2003/7) endorsed the creation of an Oceans and Coastal Areas Network (subsequently renamed UN-OCEANS) to establish an effective, transparent and regular inter-agency coordination mechanism on ocean and coastal issues within the United Nations system.
UN-OCEANS has been established to: 1. Strengthen coordination and cooperation of United Nations activities related to oceans and coastal areas; 2. Review the relevant programmes and activities of the United Nations system, undertaken as part of its contribution to the implementation of the United Nations Convention on the Law of the Sea (UNCLOS), Agenda 21 and the Johannesburg Plan of Implementation; 3. Identify emerging issues, define joint actions and establish specific task teams to deal with these, as apporpriate; 4.Promote the integrated management of oceans at the international level; 5. Facilitate, as appropriate, the inputs to the annual report on oceans and the law of the sea of the Secretary-General; and 6.Promote the coherence of United Nations system activities on oceans and coastal areas with the mandates of the General Assembly, and the priorities contained in the Millennium Development Goals, the Johannesburg Plan of Implementation and of governing bodies of all members of UN-OCEANS.
Agency Programmes:
1. Ocean and Law of the Sea- information system and reference library on ocean-related legislative materials, national profiles and marine mineral resources.
Inter-Agency Activities:
1. UN Atlas of the Oceans
The UN Atlas of the Oceans is an Internet portal providing information relevant to the sustainable development of the oceans. It is designed for policy-makers who need to become familiar with ocean issues and for scientists, students and resource managers who need access to databases and approaches to sustainability. The UN Atlas can also provide the ocean industry and stakeholders with pertinent information on ocean matters.
Access information: (News, Websites, Documents, Books, Multimedia, Institutional Contact etc.)
- ABOUT (the oceans) - from history, biology, maps and statistics to research, climatology and ecology
- USES (of the oceans) - from fishing, shipping and mining to tourism, dumping and marine biotechnology
- ISSUES - from food security and climate change to governance and human health
- GEOGRAPHY - information categorized by geographical area
2. Global Programme of Action for the Protection of the Marine Environment (GPA)
The major threats to the health, productivity and biodiversity of the marine environment result from human activities on land - in coastal areas and further inland. Some 80% of the pollution load in the oceans originates from land-based activities. The GPA is designed to be a source of conceptual and practical guidance to be drawn upon by national and/or regional authorities for devising and implementing sustained action to prevent, reduce, control and/or eliminate marine degradation from land-based activities.
Data and Information:
- Document Library (search by keyword, categories, languages)
- Related Oceans and Coasts Libraries
3. Assessment of Assessments (AoA)
Being undertaken under the co-leadership of UNEP and UNESCO/IOC as part of the Start-up Phase of the Regular process for global reporting and assessment of the state of the marine environment, including socio-economic aspects (in accordance with paragraph 64 (a) of UNGA resolution 58/240). It was requested for by governments in order to serve as one of the main foundations for the development of a regular process for the global reporting and assessment of the state of the marine environment, including socio-economic aspects. It builds on the work done by other international forums and, either directly or indirectly through those forums, by national authorities concerned with the marine environment.
Data and Information:
- AoA REPORT
- The Global and Regional Assessments of the Marine Environment Database (GRAMED)
. Search for Assessments (region, country, scale, themes etc.)
. GRAMED Summary Statistics
. Data Portal Links

Global International Water Assessment (GIWA)
The aim of GIWA is to produce a comprehensive and integrated global assessment of international waters, the ecological status of and the causes of environmental problems in 66 water areas in the world, and focus on the key issues and problems facing the aquatic environment in transboundary waters. (Lead: UNEP)|
GIWA Publications:
- GIWA Regional assessment reports
- Thematic reports
- Special reports
Scaling and Scoping :
. GIWA Scaling and Scoping exercise - The electronic format for filling in environmental and socioeconomic impacts as well as future conditions.
. Confirmation of GIWA Region Boundaries - Data files and instructions uctions
Regions and Networks : - Nine megaregions, 66 subregions
Methodologyhodology : - The GIWA Methodology for Remaining stages, Final version
- GIWA RAPS (Rapid Assessment of Pollution Sources) - A Guide to the Assessment of Point Source Pollution and Potential Environmental Control Strategies
- The revised Scaling and Scoping Methodology, 10 July 2001
- Causal chains and key issues
Testing in two subregions - Baltic Sea Region and Gulf of Thailand Region
4. The International Coral Reef Initiative (ICRI)

ICRI is a partnership among governments, international organizations, and non-government organizations. It strives to preserve coral reefs and related ecosystems by implementing Chapter 17 of Agenda 21, and other relevant international conventions and agreements.
- ICRI Members: Government Agency, International / Regional Programme, NGO etc.
- ICRI Networks:
. Global Coral Reef Monitoring Network (GCRMN)
. International Coral Reef Action Network (ICRAN)
ICRI Document Library
5. Joint Group of Experts on the Scientific Aspects of Marine Environmental Protection (GESAMP)
GESAMP is an expert group sponsored by several UN agencies that undertakes targeted scientific studies at the request of the agencies to provide technical advice on scientific aspects of prevention, reduction and control of the degradation of the marine environment to sustain its life support systems, resources and amenities. (Lead: IAEA-MEL)
- GESAMP Experts : Register as a user
- GESAMP Publications
6. Global Ocean Observing System (see GOOS)
7. Global Climate Observing System (GCOS)
GCOS is intended to be a long-term, user-driven operational system capable of providing the comprehensive observations required for monitoring the climate system, for detecting and attributing climate change, for assessing the impacts of climate variability and change, and for supporting research toward improved understanding, modelling and prediction of the climate system. It addresses the total climate system including physical, chemical and biological properties, and atmospheric, oceanic, hydrologic, cryospheric and terrestrial processes. It is lead by WMO and co-sponsored by the IOC of UNESCO, UNEP and ICSU.
- Climate Observation Needs
- Reporting Guidelines on Global Climate Observing Systems
- GCOS Reports to UNFCCC
- GCOS Climate Monitoring Principles
- Observing Systems and Data : The Global Observing Systems Information Center (GOSIC) provides access to data, metadata and information from GCOS and partner observing systems. This page provides an overview of all GCOS-relevant network components and systems, separated by domains:

- Outreach:
8. World Oceans Day - June 8 As a result of a United Nations General Assembly resolution passed in December 2008, the UN officially recognized World Oceans Day as June 8th each year. The concept for a "World Ocean Day" was first proposed in 1992 by the Government of Canada at the Earth Summit in Rio de Janeiro, and it had been unofficially celebrated every year since then. Since 2002, The Ocean Project and the World Ocean Network have helped to promote and coordinate World Oceans Day events worldwide through support to events and activities with aquariums, zoos, museums, conservation organizations, universities, schools, and businesses. Each year an increasing number of countries and organizations have been marking June 8th as an opportunity to celebrate our world ocean and our personal connection to the sea.

9. Global Environment Facility - International Waters (GEF)
GEF is a partnership between 182 member governments, 4 United Nations Agencies (UNDP, UNEP, FAO, UNIDO), the World Bank, 4 Regional Development Banks, the International Fund for Agricultural Development, nongovernmental organizations, and the private sector - to address global environmental issues. Under its International Waters focal area, the GEF finances activities to helps countries collectively manage their transboundary surface water basins, groundwater basins, and coastal and marine systems in order to sustain and share the benefits from them. With the help of the 10 GEF Agencies, the GEF International Waters portfolio has supported regional collaborative efforts for 22 transboundary surface water basins, 16 large marine ecosystems, and 5 cross-border groundwater systems. The development of 13 new regional treaties, protocols, and regional agreements during these GEF projects highlights that many countries view the sustainability of these systems as critical to their future development. In the context of marine and coastal resources, current GEF strategic programs for International Waters include restoring and sustaining coastal and marine fish stocks and associated biological diversity, and reducing nutrient over-enrichment and oxygen depletion from land-based pollution of coastal waters in Large Marine Ecosystems consistent with the Global Program of Action (GPA).
- Projects & Funding :
. The GEF Projects Database
. Country Profile (documents, programs, bulletin, newsletter, photo & video etc.)
- Documents & Publications
- Press Room (news, events, release, logo etc.)

The WDPA-Marine is dedicated to providing the most comprehensive set of marine protected areas (MPAs) data available. With less than one percent of the oceans under legal protection, it is essential to maintain a dataset that focuses on MPAs and representation of the diverse species and habitats found in the marine environment.
- Search for Protected Areas Worldwide
- Select to Further Filter the Map
- Upload
- Download
The World Meteorological Organization (WMO) is a specialized agency of the United Nations. It is the UN system's authoritative voice on the state and behaviour of the Earth's atmosphere, its interaction with the oceans, the climate it produces and the resulting distribution of water resources.
WMO scientific and technical programmes: